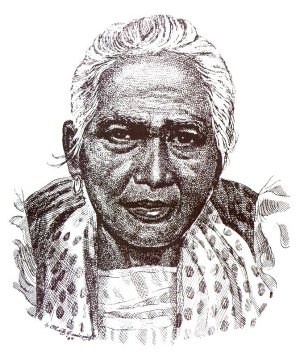 Melchora Aquino de Ramos (January 6, 1812 - March 2, 1919) was a Filipino revolutionary who became known as "Tandang Sora" ("Tandang" is derived from the Tagalog word matanda, which means old) in Philippines history because of her age when the Philippine Revolution broke out in 1896.

Aquino, daughter of a peasant couple named Juan and Valentina Aquino, never attended school. However, she was apparently literate at an early age and talented as a singer. She performed at local events as well as at Mass for her Church. She married Fulgencio Ramos, and they had seven children. Ramos died when their youngest child was seven, and she was left as a single parent of their seven children.

In her native country, Aquino operated a store, which became a refuge for the sick and wounded revolutionaries. She fed, gave medical attention to, and encouraged the revolutionaries with motherly advice and prayers. Secret meetings of the Katipuneros (revolutionaries) were also held at her house. Thus, she earned the name, "Mother of the Katipunan" or revolution. When the Spaniards learned about her activities, she was arrested and deported to the Mariana Islands.

After the United States took control of the Philippines in 1898, Aquino, like other exiles, returned to live there until her death at the age of 107. Her remains lie in her own backyard, now developed as a public cemetery called the Himlayang Pilipino.