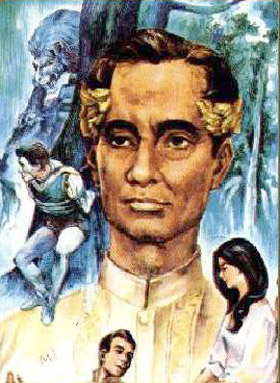 Франсиско Бальтасар (Baltazar) (псевдоним - Франсиско Балагтас) (1788-1862), основоположник филиппинской литературы (на тагальском языке). В поэме "Флоранте и Лаура" (1838), используя традиционные формы народной поэзии, выступил с осуждением испанского колониального гнета.

Francisco Baltazar (April 2, 1788—February 20, 1862), known much more widely through his nom-de-plume Francisco Balagtas, was a prominent Filipino poet, and is widely considered as the Tagalog equivalent of William Shakespeare for his impact on Filipino literature. The famous epic, Florante at Laura, is regarded as his defining work.

Born in the town of Bigaa (now named Balagtas in his honor) in the province of Bulacan, Francisco Balagtas was the youngest of four children. His parents were the blacksmith, Juan Baltazar, and his wife, Juana de la Cruz. He was nicknamed Kiko, while his siblings were named Felipe, Concha, and Nicholasa.

He studied in a parochial school in Bigaa, Bulacan during his elementary years. Balagtas was eleven years old when he moved to Tondo, Manila and study at Colegio de San Juan de Letran, where he achieved a reputation for eloquence. His aunt, Dona Trinidad, was impressed with his diligence, and sponsored his studies.

Balagtas learned to write poetry from Jose de la Cruz (Huseng Sisiw), one of the most famous poets of Tondo. It was Jose de la Cruz himself who personally challenged Balagtas to improve his writing. In 1835, Kiko moved to Pandacan, where he met Maria Asuncion Rivera, who would effectively serve as the muse for his future works. She is referenced in Florante at Laura as 'Celia' and 'MAR'.

Balagtas' affections for Celia were challenged by the influential Mariano Capule. Capule won the battle for Celia when he used his wealth to get Balagtas imprisoned. It was here that he wrote Florante at Laura—In fact, the events of this poem were meant to parallel his own situation. He wrote his poems in Tagalog, during an age when Filipino writing was predominantly written in Spanish.

Balagtas published Florante at Laura upon his release in 1838. He served as a Major Lieutenant after moving to Udyong, Bataan in 1840. It was here that he met Juana Tiambeng of Orion, Bataan, whom he would wed in 1842. Together, they had eleven children - five boys and six girls. However, seven of them died. It is important to note that upon his deathbed, he asked that none of his children become poets like him, who had suffered under his gift as well as under others. He even went as far as to tell them it would be better to cut their hands off than let them be writers.

Balagtas is so greatly revered in the Philippines that the term for Filipino debate in extemporaneous verse is named for him: Balagtasan.