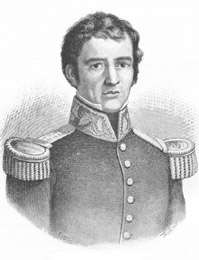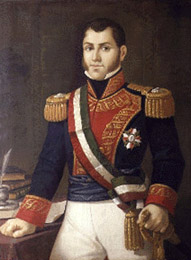 Гвадалупе Виктория (урожденный Jose Miguel Ramon Adaucto Fernandez y Felix) - первый законно избранный президент Мексики с 1824 по 1829.

Born in Tamazula, Durango, he studied Law in the Colegio de San Ildefonso. In 1811 he joined the revolution proclaimed by Miguel Hidalgo and fought under Jose Maria Morelos y Pavon. After Morelos' execution he fought in Oaxaca and Veracruz.

After his defeat near the town of Palmillas, Veracruz, he remained hidden in the mountains until Agustin de Iturbide and Vicente Guerrero issued the Plan de Iguala, which called for an independent Mexico governed by a constitutional monarchy. Firmly republican, he supported Antonio Lopez de Santa Anna and signed the Plan de Casa Mata with the purpose to overthrow then Emperor Iturbide.

He became the first president of the new country after the overthrow of Emperor Agustin de Iturbide. Victoria chose his new name for symbolic significance: Guadalupe to give thanks, to what he claimed, the protection of Our Lady of Guadalupe, and Victoria which means Victory.

During his tenure he abolished slavery, established the Colegio Militar ("Military Academy"), signed a diplomatic Treaty with the United Kingdom, and expelled Spanish citizens unloyal to the government of the new country. He also was the first President to repeat Miguel Hidalgo's Grito de Dolores.

He died of epilepsy in Perote, Veracruz, in 1843 where he was interred. On August 25, 1845 he was declared Benemerito de la Patria ("Hero of the Nation") by Congress. In 1925 his remains were moved to the mausoleum at the base of El Angel de la Independencia in Mexico City.