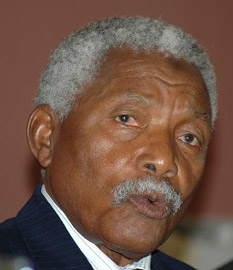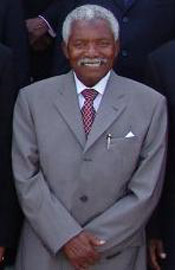 Ali Hassan Mwinyi (born May 8, 1925, Kivure, Coast Region, Tanzania) was the president of the United Republic of Tanzania from 1985 to 1995. Previous posts include Interior Minister and Vice President. He also was chairman of the ruling party, the Chama Cha Mapinduzi (CCM) from 1990 to 1996.

During Mwinyi's terms Tanzania took the first steps to reverse the socialist policies of Julius Nyerere. He relaxed import restrictions and encouraged private enterprise. It was during his second term that multi-party politics were introduced under pressure from foreign donors. Often referred as Mzee Rukhsa ("Everything goes"), Mwinyi regime was characterized by high degree of corruption and wide-spread tax evasion that flourished during his term. Many argue that during Mwinyi's tenure the country did not have a proper and disciplined monetary policy. During that time inflation was rampant due to an oversupply of cash in the economy.

In retirement, Mwinyi has stayed out of the limelight and continues to live in Dar es Salaam.